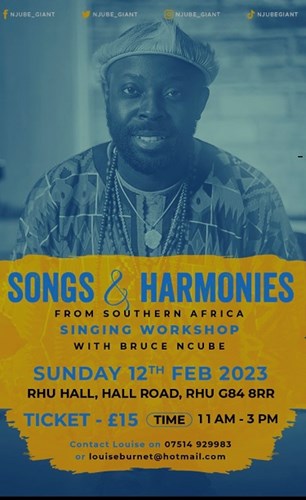 African Singing Workshop 12th Feb Rhu Hall
Added at 11:11 on 08 January 2023
African Singing Workshop 12th February in Rhu Hall
11.00 - 3.00
Sunday 12th February in Rhu Hall
Tickets £15.00
Contact Louise on louiseburnet@hotmail.com or 07514 929983
The workshop will be led by Bruce Ncube
Bruce Ncube is a Zimbabwean artist who specialises in teaching traditional songs from Zimbabwe in 3 to 6-part harmonies.The songs and harmonies that he teaches are emotionally charged and uplifting, designed to build participants confidence with singing. His method of teaching is in the traditional oral/aural way; reminiscent of when people would gather around a fire in the evenings, or whilst working in the fields and start weaving harmonies. The workshops are inclusive and participatory, and one does not need to be experienced in singing to take part in them.
https://www.youtube.com/watch?v=YjcjQ2V0U4U
This is a great opportunity for all to attend a fun and exciting African Singing Event.