Felling in Highlandman and Torr Forest.
Updated September 29th 2021
New TTMP Published 27th Feb 2019
ARM . The Agreed Route Map for timber haulage. This map has been developed by the timber transport groups at local authority level. The extraction route shown in the map below is not included.
Confor: Confederation of Forestry Industries Guidance Note
The harvesting of timber from the woods behind Rhu started in Spring 2018. The original schedule below, provided before extraction started is not correct and will be updated when we have the information.
The Contractor, Scottish Woodland Ltd, is eager to minimise the disruption to the community. However the proposed extraction routes are down Station Road and Pier Road, so there will be disruption.
This map shows the extraction route.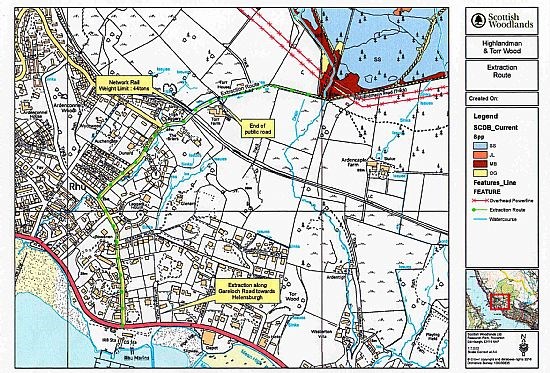 The map shows the areas for the four felling Phases
Phase 1 - 2015-2019
Phase 2 - 2020-2024
Phase 3 - 2025- 2029
Phase 4 - 2030 - 2034
Note added 29/09/2021.
The time slots for phases 3, 4 and 5 are being revised.
The new dates will be posted when they are received
---
First phase negotiations:
TTMP1-produced in October 2017,
TTPM2- produced and operated from November 2018, but not made public. The only change is that the exclusion times have been reduced by half an hour in the morning to 8.45 to 9.15 and shunted in the afternoon to 14.45 t0 15.45.
Meeting Note: Fiona Baker and Peter Knox met with team concerned with the extraction on 23 Jan 2019.
31st January 2019: Letter sent to A&B requesting exclusion times of 8.00 to 9.00 and 15.00 to 16.00. The next meeting of the team involved with the extraction with A&B is on February 11th.
27th February 2019 Revised TTMP published. The above exclusion times are included, but the hauling now starts at 6am instead of 7am in the previous TTMP.