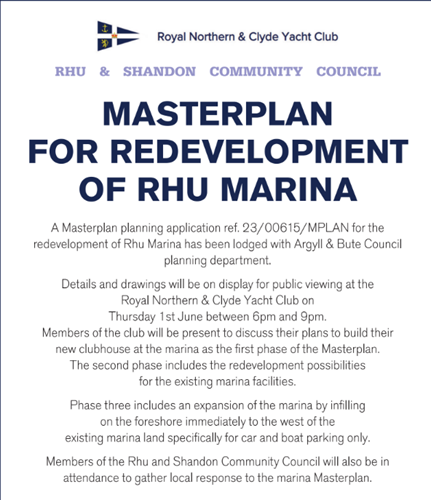 Rhu Marina Masterplan
Added at 16:33 on 24 May 2023
Public Meeting, Thursday 1st June. 6pm to 9pm in Royal Northern & Clyde Yacht Club.
Details and Drawings will be on display and members of the Club will be present to discuss their plans to build a new Clubhouse at the Marina as the first phase of the Masterplan, 23/00615/MPLAN.
The second phase will be the redevelopment of the existing marina facilities and the third phase includes an expansion of the marina by infilling on the foreshore immediately to the west of the existing marina specifically for car and boat parking.
Members of Rhu and Shandon Community Council will also be in attendance to gather local response to the marina masterplan.