Foodbank Collection from Rhu and Shandon Church
Added on 07 January 2022
Saturday January 8th between 10 am - 11 am

in the grounds of Rhu & Shandon Church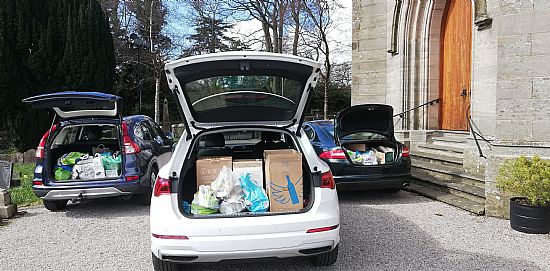 The Helensburgh and Lomond Foodbank has had a busy time over the Festive Season with 156 Special Christmas and New Year Bags going out in December. It is thanks to the generosity of the Community that they had plenty of festive food to share with those who came to them for food at Christmas.

The Foodbank is very grateful for your continuing support.

The Top Ten Food Items required now are:
Long Life Milk Blue or Green Carton
250g Rice (Microwave pack)
Jars Pasta Sauce
Breakfast Cereal
Boxes Cereal Bars
Boxes Cuppa Soup
Tins Macaroni Cheese
Tins Sardines
Tins Tuna
Tins Fruit
The Foodbank expects to be busy this month as people struggle to keep their heating and cooking meters topped up, so cash donations to purchase energy cards would also be welcome.